La Veloroute du Calavon - Rail Trail / Bicycle Path in France

La Veloroute du Calavon is a paved bicycle path in France that uses the right-of-way of an old railroad line. As of 2018, the bike path goes from Robion due east for 11 miles before reaching Pont Julien. The path continues east for another 12 miles ending in Saint-Martin-de-Castillon. The path is very flat and is closed to motor vehicles, although you will need to make short detours onto the road at several points. The bike path roughly follows the Calavon river and Route D900.
The Robion end of the trail may be difficult to find. Entering 800 Avenue de la Gare, Robion on your GPS will get you there. There is plenty of free parking at this end of the trail.
Heading east, you will ride through the town of Coustellet, where there is a bike shop right on the trail. The path ends as you enter the town, but continue east on the road until you reach the En Roue Libre Luberon bike shop. The official path continues east at this point.
Next town is Les Beaumettes, where the path ends and forces you onto the streets. Follow the signs directing you through the bicycle tunnel under D900. Continue easterly, watching for the "veloroute" signs, until you take another tunnel back under D900.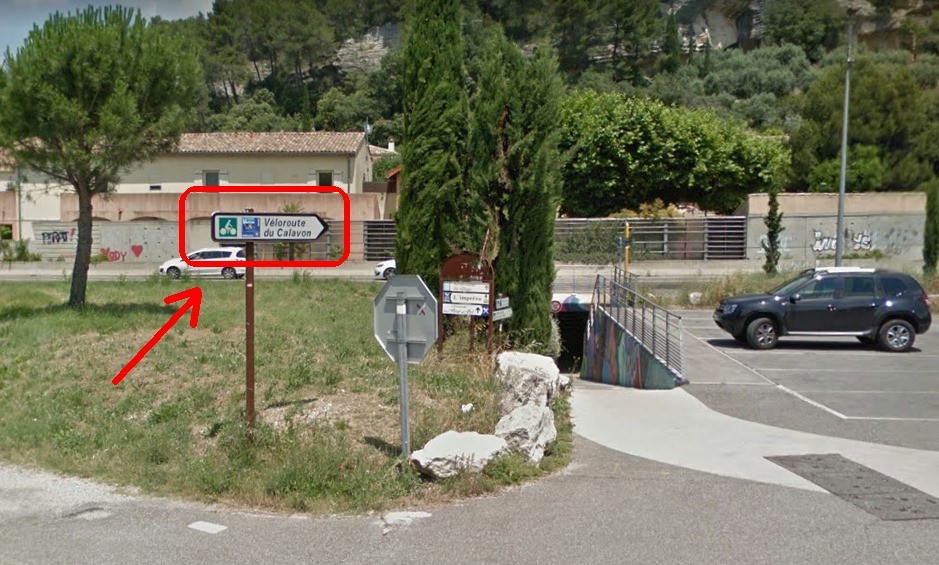 The official path continues heading east to La Gare de Bonnieux, then on to Pont Julien. After crossing over Pont Julien, the path continues east towards Apt. Just before Apt, there is another detour under D900 onto regular roads, due east a short ways, then another tunnel back under the highway and onto the bike path. As you pedal through Apt, you will ride right past the tourism office and a couple more bike shops. Apt is also home to the Luberon Regional Natural Park. The path continues east another few miles, ending, rather unceremoniously, in Saint-Martin-de-Castillon, at the intersection of D900 & D48. There is no parking at this end of the bike path.
For those that use Google Earth, I have created a path with placemarks. Veloroute Du Calavon on Google Earth. Check it out and you can browse a large number of photos that have been posted along the trail.